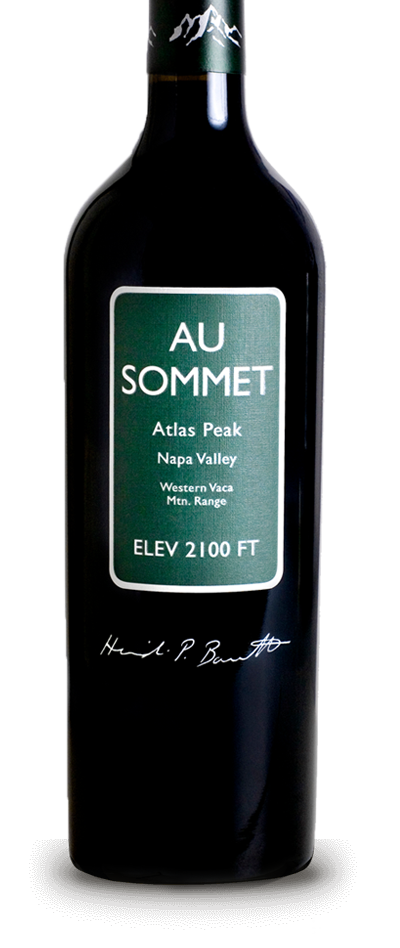 Au Sommet
2015 AU SOMMET NAPA VALLEY CABERNET SAUVIGNON
Au Sommet (o-so-may)...To the top, the very highest point at which we excel at what we do!
We are pleased to offer your three-bottle allocation of 2015 Au Sommet Cabernet Sauvignon, shipping in Fall 2018.
Please contact us if you are interested in purchasing one of the few 1.5L magnums or 5L hand-etched jerobaums, signed by Heidi.
The Wine
"A deep shade of mahogany red, our 2015 Au Sommet offers aromas of black pepper and dark fruit immediately, opening up to a range of black and purple berries with time in the glass. This Cabernet is showing beautifully now but is built to age for years to come. On the palate are flavors of currants, plums and smoke, complemented by a lush tannin profile giving way to a lengthy finish. As elegantly refined as Cabernet comes."
-Winemaker Heidi Barrett
Antonio Galloni
2015 Vintage
"John Schwartz's 2015 Au Sommet is superb. Nuanced, polished and super-delicious, the 2015 possesses exceptional finesse and texture in the mid-weight, gracious style that is Heidi Barrett's signature. The flavors are dark and incisive in this dark, sumptuous Cabernet Sauvignon. Even so, the 2015 retains terrific freshness for the year. Black cherry, lavender, graphite, plum and menthol add striking layers of nuance." - January 2018
Wine Advocate
2015 Vintage
"Composed of 96% Cabernet Sauvignon and 4% Petit Verdot, the deep garnet-purple colored 2015 Cabernet Sauvignon Au Sommet offers a nose of warm blackcurrants and black cherries with plum preserves, spice box and incense, plus a waft of Indian spices and garrigue. The medium to full-bodied palate is understated, with firm, chewy tannins and an earthy finish." - December 2017